Map, schedule and other Rome bus tour services
Roma City Tour is the official tourist bus service of Rome with a panoramic upper deck that offers the best way of getting to know the city's most fascinating sights.
1 round trip ticket, closed circuit without hop on hop off option so you can visit the most emblematic areas and monuments from the comfort of the Roma City Tour.
Half Day Ticket with 5 hours durability, usable without time restriction in low season (until March 31) and with the possibility of use from 13h in high season from April 1.
Ticket 24 hours ticket to get on and off as many times as you wish or require and enjoy the City of Love.
48 hours ticket for a maximum enjoyment of all the possibilities of this city with unlimited tours during the service of 2 consecutive days.
Plus, while onboard the Roma City Tour you'll receive an information brochure with information about the itinerary and about the city.
---
Map & Information brochure
When you board the bus, you'll be given a brochure with a plan of the city and details of the routes with a description of the stops.
---
Hop On Hop Off Rome hours
We offer an uninterrupted service throughout the year.
The estimated time for the route is around 1 hour and 45 minutes.
From April to October the service starts at 8.30am and finishes at 8.30pm (Monday to Sunday). Last departure at 18.45h. Frequency: 15 min.
From November to March the service starts at 9:00 and ends at 19:30 (Monday to Sunday). Last departure at 17:30h. Frequency: 20 min.
✔ Guaranteed frequency every
15-20 minutes
✔ 12h of guaranteed NON-Stop
operation
---
Pre-recorded audio guide in 12 languages

Each bus has an automatic audio guide system in 12 languages providing information on each point of interest of the trip. All you have to do is plug in the free headphones and enjoy finding out about the city. the available languages are:
Italian
English
French
Spanish
Portuguese
German
Dutch
Russian
Arabic
Chinese
⭐ Exclusive new audio commentary for all language audio guides with updated information so you don't miss a single detail of your visit.
⭐ New "Kids audio guide" with child-friendly content in English and Italian.
---
Hop-On Hop-Off experience
Let yourself fall in love with Rome with Roma City Tour.
Discover the city with Roma City Tour and enjoy the trip with the Hop-on Hop-off service, with which you will be able to get on and off the bus as many times as you want at any of the 8 stops. Take the most of this service to discover the most important points of interest of the city with City Tour Worldwide.
Aboard our buses you will be able to visit this city in detail. Roma City Tour will take you near to the most well-known points of interest, such as the Città del Vaticano, the Fontana di Trevi or the Colisseum.
You can also download Roma City Tour free mobile app and have the information with you at all times.
---
Bus Tour Rome Services
Roma City Tour boasts a fleet of pink buses with a panoramic upper deck affording a unique panoramic view of the city. The lower deck is air-conditioned and all our vehicles are equipped with anatomical seats to make your trip more comfortable.
All our buses are equipped with a ramp accessing the rear door and a space set aside for wheelchairs, a continuous low floor platform and a quick kneeling system that tilts the vehicle to the right.
To ensure a smooth service, all passengers should enter by the front door and exit from the rear. Also, our buses have two sets of stairs linking the two levels: the front one should be used to go up and the rear one to go down.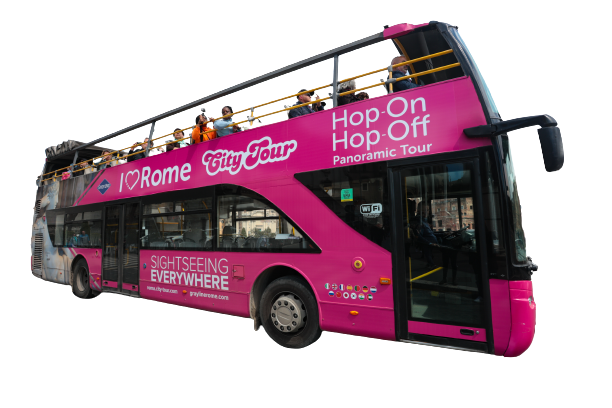 Free Wi-Fi
All our buses feature a free Wi-Fi Internet connection, allowing you to go online as you travel with us.
Sliding roof
In the case of rain, our staff will cover the upper deck so you can continue to enjoy the route, even when the weather turns nasty.
Audio guide in 12 languages
Our pre-recorded audio guide system, available in 12 languages, will provide you with information on the points of interests along our routes and at their stops. Just plug in the headphones and choose your language!
Accessible vehicles
Space designed for persons with reduced mobility
Brochure and app
Brochure and free mobile app designed to improve your hop on hop off experience.